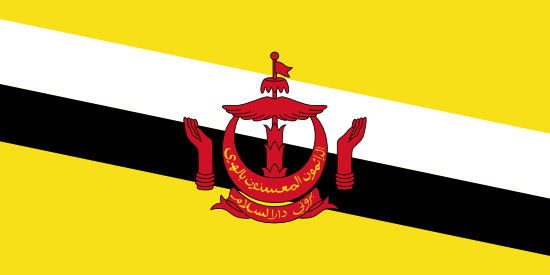 Travel Vaccines and Advice for Brunei
Brunei is known as the Abode of Peace and is located in Southeast Asia. It is also near the state of Sarawak, Malaysia. This sovereign state is on the island of Borneo and an the ideal spot for U.S. tourists to travel.
People will discover everything Brunei has to offer from great golf courses to malls, exquisite hotels, relaxing spas, theme parks, and recreation centers. Brunei has a variety of cuisine to try from local to international flavors that will satisfy your taste buds.
Brunei prides itself as an ecotourism spot for tourists who love nature as well as adventure. Their national parks are great places to get in touch with nature and discover the many species of animals that live in the jungle.
Whether you're a nature enthusiast, love adventure, need to relax, or are into culture, Brunei is where you want to visit. They're waiting for you to come into their world.
Do I Need Vaccines for Brunei?
Yes, some vaccines are recommended or required for Brunei. The CDC and WHO recommend the following vaccinations for Brunei: hepatitis A, hepatitis B, typhoid, yellow fever, Japanese encephalitis, rabies, meningitis, polio, measles, mumps and rubella (MMR), Tdap (tetanus, diphtheria and pertussis), chickenpox, shingles, pneumonia and influenza.
COVID-19 vaccination is recommended for travel to all regions, both foreign and domestic. Check with your local Passport Health clinic if immunization is offered in your area.
See the bullets below to learn more about some of these key immunizations:
See the tables below for more information:
Recommended Travel Vaccinations for Brunei

VACCINE
HOW DISEASE SPREADS
DETAILS

COVID-19
Airborne & Direct Contact
Recommended for all unvaccinated individuals who qualify for vaccination
Hepatitis A
Food & Water
Recommended for most travelers
Hepatitis B
Blood & Body Fluids
Recommended for travelers
to most regions.
Typhoid
Food & Water
Recommended for travelers
to most regions.
Yellow Fever
Mosquito
Required if traveling from a country with risk of yellow fever transmission.
Japanese Encephalitis
Mosquito
Recommended depending on itinerary and activities. May be given to short- and extended-stay travelers, recurrent travelers and travel to rural areas. In many areas throughout country, risk is year-round.
Rabies
Saliva of Infected Animals
Moderate risk country. Vaccine recommended for long-term travelers and those who may come in contact with animals.
Routine Vaccinations for Brunei

VACCINE
HOW DISEASE SPREADS
DETAILS

Measles Mumps Rubella (MMR)
Various Vectors
Given to anyone unvaccinated and/or born after 1957. One time adult booster recommended.
TDAP (Tetanus, Diphtheria & Pertussis)
Wounds & Airborne
Only one adult booster of pertussis required.
Chickenpox
Direct Contact & Airborne
Given to those unvaccinated that did not have chickenpox.
Shingles
Direct Contact
Vaccine can still be given if you have had shingles.
Pneumonia
Airborne
Two vaccines given seperately. All 65+ or immunocompromised should receive both.
Influenza
Airborne
Vaccine components change annually.
Meningitis
Airborne & Direct Contact
Given to anyone unvaccinated or at an increased risk, especially students.
Polio
Food & Water
Considered a routine vaccination for most travel itineraries. Single adult booster recommended.
There is a risk for Japanese encephalitis in Brunei, depending your itinerary. Many factors can play a role including where you will be staying and the time of year you will be traveling. Consult with a travel health specialist to learn more.
Rabies is another risk in Brunei. The CDC recommends the vaccine if you plan to take part in outdoor activities or are around animals.
Travelers' diarrhea can be a concern for those traveling to Brunei. Avoid drinking tap water and eat food that is clean. Consider bring a travelers' diarrhea kit with you as well.
To find out more about these vaccines, see our vaccinations page. Ready to travel safely? Book your appointment either call or start booking online now.
Is Cholera in Brunei?
The Brunei Ministry of Health monitors for cholera infection. Cholera was reported in neighboring countries in May 2016.
The Ministry of Health suggests travelers to be aware of cholera as a precaution. People are advised to only go to restaurants that are clean and eat food that is clean, drink bottled or boiled tap water, and make sure food is cooked thoroughly.
The best protection against cholera is through vaccination. Passport Health clinics offer the cholera vaccine. Book your cholera vaccination appointment today!
Customer Reviews
Passport Health – Travel Vaccines for Brunei
Overall rating: 5 stars – 3 reviews
"

Lynette

"

"My family is moving to Brunei in July, I took my three boys ages 1, 3, and 4 for their vaccinations. Nurse Lynette was so patient, kind, and helpful. She even took the time to explain the vaccinations to my husband on speaker phone as I chased my kids around the office. She went above and beyond. I would definitely recommend Passport Health."
"

Great Clinic for International Travel

"

"So glad I found out about the Passport Health Clinic for my travels to Brunei next week. The nurse was very knowledgeable and has been extremely helpful! :)"
"

Caring and informative!

"

"My visit today to get my immunizations updated for a trip to Brunei went quickly. The Nusre was helpful in answering all my questions. Thank you Fredericksburg Passort Health."
Do I Need a Visa or Passport for Brunei?
U.S. travelers must have a passport with at least six months validity to travel to Brunei for business or pleasure.
Brunei Entry Requirements

Do I Need A…
For My Trip to Brunei?

Passport
Tourist Visa
Business Visa
Vaccinations
Sources: Embassy of Brunei and U.S. State Department
Travelers must have a visa if they are planning to stay 90 days or more and six blank passport pages.
Overstaying a visa is a serious offense. Violators and people associated with violators are subject to the same punishment if they are found guilty.
Brunei has put into place an HIV/AIDS restriction to travel. The Ministry of Health of Brunei recommends that travelers coming to Brunei fill out and submit a Health Declaration Card. If travelers are suspected of having any infectious disease, they may be quarantined.
Ready to start your next journey? Call us at or book online now!
What Is the Climate Like in Brunei?
Brunei has a tropical rainforest climate with temperatures usually in the low 80's. January, February, and December are the best months for travelers to visit because of the good weather and temperature.
There are rainy seasons all year, but July is the warmest month and January is the coolest month to travel to these places in Brunei. November is not the best time to travel because it is the wettest month while March is the driest month.
How Safe Is Brunei?
Travelers going to Brunei need to be aware of their surroundings at all times. Don't draw attention too much, and report any activity that doesn't seem normal.
Crimes are usually non-violent and can include burglaries and breaking into vehicles. Victims of crime and domestic violence can contact the U.S. Embassy for help.
Women are, for the most part, safe to travel to Brunei. If they are alone, it is best to walk with confidence and dress in clothes that don't reveal their bodies. The Brunei people are friendly, but women may receive long stares.
Travelers should be on the lookout for scams in Brunei. They should not let people sell them lottery tickets and take them to a casino because it is illegal to gamble. Travelers also need to be aware of shops and marketplaces that sell counterfeit medicine.
The Royal Palace in Brunei
Avoid mosquitoes and other bugs
Travelers have the experience of visiting the Royal Palace on the second, third, and fourth day of Hari Raya Aidilfitri. These days are when the palace is open to travelers and citizens alike. People have the chance to meet the Sultan of Brunei and the royal family members. Visitors also have the opportunity to see a piece of history as they enter the palace.
Guests are given a celebratory meal, greeted by the sultan and his wife, and given a gift. Male guests can greet the sultan while women guests can greet his wife with a handshake. The sultan and queen greet at least 40,000 people a day during the Muslim festival of Hari Raya Aidilfitri.
A unique opportunity like this allows travelers to immerse themselves in the culture of Brunei.
What Should I Take to Brunei?
Here are some essential items to consider for your trip to Brunei:
Currency – You can bring US, Euro, GBP, or AU money and exchange it for Brunei money at ATMs. Singapore money is the same value as Brunei money. It's a good thing to keep in mind that your bank may receive fees because you are withdrawing money overseas. A better option to avoid fees is to go to a moneychanger instead.
Clothing – Travelers should bring modest clothing when traveling to Brunei. Shorts, miniskirts, and tank tops should be left behind. You can bring slip on shoes or sandals. It's respectful to the culture that you embrace their laws, customs, and religion.
Bug Repellent – You can protect yourself from ticks and mosquitos by bringing bug repellent. The CDC advises that you use a repellent that contains 20% or more DEET to protect you for several hours.
Packing for Health – Your health is important, especially when you're traveling to another part of the world. Prescription medicines, over the counter medicines, and a first aid kit are some of the essentials you need to stay healthy and avoid or treat injuries while in Brunei. If you're planning to be outdoors a lot of the time, a SPF 15 sunscreen is a must on your trip. It will protect you from UV radiation.
U.S. Embassy in Brunei
The U.S. Embassy's mission is to advance the interests of the United States as well as to serve and protect U.S. citizens in Brunei.
U.S. Embassy Bandar Seri Begawan
Simpang 336-52-16-9
Jalan Duta
Bandar Seri Begawan BC4115, Brunei Darussalam
Telephone: +(673) 238-4616
Emergency After-Hours Telephone: +(673) 873-0691
Fax: +(673) 238-4606
Email: ConsularBrunei@state.gov
Visit the Embassy to Brunei website before departure to confirm correct contact details for the office.
Ready to start your next journey? Call us at or book online now!
On This Page:
Do I Need Vaccines for Brunei?
Is Cholera in Brunei?
Do I Need a Visa or Passport for Brunei?
What Is the Climate Like in Brunei?
How Safe is Brunei?
The Royal Palace in Brunei
What Should I Take to Brunei?
U.S. Embassy in Brunei