The COVID-19 pandemic has affected travel to many countries. Eritrea may require you to have a negative COVID-19 test for entry.
Please see our COVID-19 Restrictions page to learn more.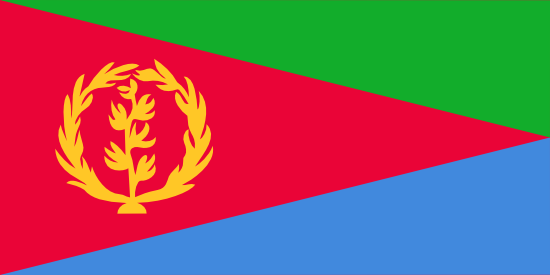 Travel Vaccines and Advice for Eritrea
Eritrea is a melting pot of different cultures, giving travelers a glimpse into an incredibly unique life. The country is an beautiful, with clear beaches, towering mountains and vast deserts.
There is also a great amount of biodiversity; elephants, monkeys, leopards, lions, turtles, and birds are found there.
When entering the cities, tourists can admire a diverse mix of modern and colonial architecture. Even the people of Eritrea are known for their friendliness and hospitality. Despite the current political and economic troubles Eritrea is facing, it remains an amazing place for visitors.
Do I Need Vaccines for Eritrea?
Yes, some vaccines are recommended or required for Eritrea. The CDC and WHO recommend the following vaccinations for Eritrea: hepatitis A, hepatitis B, typhoid, yellow fever, rabies, meningitis, polio, measles, mumps and rubella (MMR), Tdap (tetanus, diphtheria and pertussis), chickenpox, shingles, pneumonia and influenza.
COVID-19 vaccination is recommended for travel to all regions, both foreign and domestic. Check with your local Passport Health clinic if immunization is offered in your area.
See the bullets below to learn more about some of these key immunizations:
See the tables below for more information:
Recommended Travel Vaccinations for Eritrea

VACCINE
HOW DISEASE SPREADS
DETAILS

COVID-19
Airborne & Direct Contact
Recommended for all unvaccinated individuals who qualify for vaccination
Hepatitis A
Food & Water
Recommended for most travelers
Hepatitis B
Blood & Body Fluids
Accelerated schedule available
Typhoid
Food & Water
Shot lasts 2 years. Oral vaccine lasts 5 years, must be able to swallow pills. Oral doses must be kept in refrigerator.
Yellow Fever
Mosquito
Required if traveling from a region with yellow fever. May be recommended for Anseba, Debub, Gash Barka, Mae Kel and Semen Keih Bahri
Rabies
Saliva of Infected Animals
High risk country. Vaccine recommended for long-term travelers and those who may come in contact with animals.
Meningitis
Airborne & Direct Contact
Located in the meningitis belt, vaccination is recommended during the dry season (Dec. – June)
Routine Vaccinations for Eritrea

VACCINE
HOW DISEASE SPREADS
DETAILS

Measles Mumps Rubella (MMR)
Various Vectors
Given to anyone unvaccinated and/or born after 1957. One time adult booster recommended.
TDAP (Tetanus, Diphtheria & Pertussis)
Wounds & Airborne
Only one adult booster of pertussis required.
Chickenpox
Direct Contact & Airborne
Given to those unvaccinated that did not have chickenpox.
Shingles
Direct Contact
Vaccine can still be given if you have had shingles.
Pneumonia
Airborne
Two vaccines given seperately. All 65+ or immunocompromised should receive both.
Influenza
Airborne
Vaccine components change annually.
Polio
Food & Water
Considered a routine vaccination for most travel itineraries. Single adult booster recommended.
Proof of Yellow fever vaccination may be required if you enter Eritrea from a country with the virus.
Dengue, malaria and chikungunya are present in Eritrea. Mosquito repellents and netting should be brought with you. Antimalarials are recommended for travelers to the country as well.
Visit our vaccinations page to learn more. Travel safely with Passport Health and schedule your appointment today by calling or book online now.
Does Eritrea Have COVID-19 Travel Restrictions?
No entry restrictions have been put in place in Eritrea. All arriving travelers will be screened at Asmara International Airport. Travelers who have recently been to, or are traveling from, China must report their travel history and may be quarantined upon arrival.
While there is not yet a vaccine to prevent COVID-19, vaccines do guard against typhoid and yellow fever, two infections common in Eritrea, as well as medication to prevent travelers' diarrhea are readily available. Call us at or schedule an appointment online to learn more about protecting your health while traveling in Eritrea.
Customer Reviews
Passport Health – Travel Vaccines for Eritrea

Overall rating: 5 stars – 3 reviews

"

great info and care

"

"An RN came to meet with the team who are going on a medical mission trip to Eritrea. Her presentation was informative and she was very willing to answer all of the team's questions."

"

Mission Accomplished

"

"The nurse gave us a comprehensive presentation and clearly detailed our options. She answered all our questions and put us more at ease regarding our trip to Eritrea. She administered the "shots" expertly — we have no ill effects."

"

Very Good Service

"

"Our visit to your clinic today was both helpful and time efficient. My daughter needed shots and medicine for her upcoming trip to Eritrea, the nurse, gave us great advice on what was medically necessary."

Do I Need a Visa or Passport for Eritrea?

American travelers visiting Eritrea must have a passport valid for six months beyond the date of departure and a visa. Travelers can apply for a tourist visa, which is valid for up to three months in Eritrea, online. Additionally, the government of Eritrea requires all travelers entering from a country with a risk of yellow fever to show proof of yellow fever vaccination

Sources: Embassy of Eritrea and U.S. State Department

For more information, see our Eritrea visa page. Or contact a Passport Health Passport and Visa specialist by calling 1-844-366-8472 or by filling out our online form.

What is the Climate Like in Eritrea?

The climate in Eritrea depends greatly on where in the country you visit.

Eastern Coast – It is very hot from June to September, with temperatures frequently in the hundreds. From December to February there is a great deal of rain, with temperatures ranging from the high-60's to mid-90's.
Highlands – The hottest month is May, with temperatures around 85. The winter can be incredibly cold with temperatures close to freezing at night.
Western lowlands – Temperatures and precipitation is like that on the coast.

How Safe is Eritrea?

Exercise caution in the country and avoid the Eritrean-Ethopian border, Southern Red Sea Region, and Eritrea-Djibouti border. There is a large military presence in these areas due to tensions between Eritrean and neighboring countries.

Crime in the country is also increasing, such as burglary and other crimes of opportunity. Travelers should always maintain situational alertness, have evacuation plans ready and travel in groups.

Visiting Matara

Avoid mosquitoes and other bugs

Matara is a small village and archaeological site located in Eritrea. At one point evidence suggests that Matara was a city along a trade route that ran from Aksum to Adulis. Archaeological investigation has revealed evidence from over 1,000 years of habituation. In the village is the Hawulti, an 18-foot-tall obelisk that has the oldest example of Ge'ez script. Those interested in history will love exploring this historic area.

What Should I Pack for Eritrea?

Eritrea is a still developing nation, meaning it is best to bring some items with you on your trip.

Money Belt – Due to the crime levels in the country, a money belt will allow you to keep your money and passport safe.
Plug Adaptors – Eritrea power sockets are type C and L, meaning an adapter is needed when traveling.
Portable Chargers – Electrical power can be unreliable in Eritrea. Bring a backup battery to keep your phone at full charge.
Jacket – If you're visiting in the winter, particularly in the highlands, temperatures can get incredibly cold. Pack warm clothes to layer on top of your outfit.

U.S. Embassy to Eritrea

When traveling it is very helpful to find out exactly where the U.S. embassy or consulates are located. Keep the address written down in case you have a legal problem, you lose your passport, or you want to report a crime. Be sure to keep a copy of your passport with you in case you lose the original.

U.S. Embassy Asmara
179 Alaa Street
P. O. Box 606 Village Market
Asmara, Eritrea
Phone: (+291)1-12-00-04
Fax: (+291)1-12-75-84

Ready to start your next journey? Call us at or book online now!

On This Page:
Do I Need Vaccines for Eritrea?
Do I Need a Visa or Passport for Eritrea?
What is the Climate Like in Eritrea?
How Safe is Eritrea?
Visiting Matara
What Should I Pack To Eritrea?
U.S. Embassy to Eritrea